For Emergencies dial 9-1-1
Welcome Command Vehicle 1317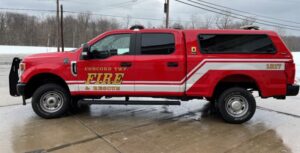 Love your Heart –  Learn about Cardio Vascular Disease
Part Time Firefighter/EMT
Concord Township Fire Department is accepting applications for the position of part time firefighter/EMT. Applicants must possess a valid Ohio Driver's License, must be a State of OH, Dept. of Public Safety certified Firefighter Level II along with either an EMT/Basic or Paramedic certification. Please follow the link below for an application and more detailed information on additional qualifications, requirements and testing procedures.
Starting rate of pay: $17.19 (Basic/EMT) $18.61 (Paramedic)
Concord Township, Perry Joint Fire District and Madison Fire District participate in a joint hiring process.
Applications for Concord Township part-time firefighters are accepted at all times
Part time Firefighter Application
2019 Concord Fire Annual Report
2018 Concord Fire Annual Report
Professionally Providing Our Community with Quality Service
The Concord Township Fire Department has evolved since its humble beginnings in 1948 into a modern, progressive organization. A cost-effective combination of full and part time firefighters provide fire suppression and emergency medical services from 2 fully operational fire stations. Department staffing also includes 1 full time and 1 part time civilian fire inspectors who provide fire safety education programs, fire inspections, and ensure new construction in Concord Township is built utilizing the most up to date safety codes.
The Fire Department works diligently to maintain fiscal responsibility. The department is funded primarily by 2 tax levies, a 2.7 mill fire operating levy and a 4.0 mill public safety level. Revenue from the public safety levy is split between the Fire Department and law enforcement.
The Fire Department responded to 2,639 calls for service in 2019 and with each and every response we strive to fulfill our mission.