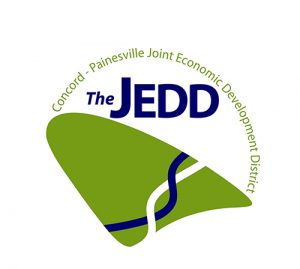 A Joint Economic Development District (JEDD) is a designated township area where a city has agreed to share the benefits and responsibilities of commercial and industrial development. Concord Township and the City of Painesville entered into an agreement to enhance the development opportunities, to create and preserve jobs and improve the economic welfare of area residents. The JEDD is established as a special district under provisions of Ohio law which is governed by a Board of Directors and the terms of the agreement between the communities.
The Concord-Painesville JEDD was created in 2008 as a partnership between Concord Township and the City of Painesville. The specific goal of the JEDD is to further economic development of the Auburn-Crile Road Business Corridor, an area south of the intersection of Interstate 90 and State Route 44. The economic opportunity was the result of the economic deficits created in both communities when Lake Health closed its Painesville hospital and built the TriPoint Medical Center in Concord. The City of Painesville lost income tax revenue and Concord Township found itself with insufficient infrastructure to support the traffic demands that the hospital and additional development created. The creation of the JEDD provided a funding mechanism to address infrastructure and safety issues without increasing property taxes across the Township.
The JEDD Board is appointed under the terms of the Ohio Revised Code by Concord Township Trustees and Painesville City Council. Those appointees select an additional person to be the chairman. The board is required to implement the terms and conditions outlined in the JEDD agreement and abide by State law. To accomplish the JEDD's mission, they are empowered to levy an income tax on the employees and businesses in the District. The funds raised by the income tax are shared between the two communities and the JEDD Board.
The Concord-Painesville JEDD established a 1.75% income tax that is levied on all employees of JEDD members and the business net profits. Those funds are then distributed as follows: 8% to the JEDD Board and the remainder split 75% to Concord Township and 25% to Painesville City. This income tax rate is one of the lowest in the region. Employees that live in a community with income tax may receive credit for taxes paid to the JEDD. The JEDD does not affect property taxes or sales taxes.
View the latest JEDD brochure to learn:
The Creation of the Concord-Painesville JEDD
Economic Incentives
Current Market Data
JEDD Benefits for Your Business
Doing Business in Concord Township
The Concord-Painesville JEDD was awarded the 2011 Team NEO Award for Regionalism & Cross Border Collaboration.­
JEDD Activity
---
The JEDD held its Strategic Planning Meeting on December 11, 2015 in Concord Township at the Community Center.
JEDD Minutes
---
2023
2022
2021
2020
2019
2018
JEDD Public Records Policy
---
Current Board Members
---
Christopher Galloway, Chairman
Douglas Lewis, Vice-Chairman
Morgan McIntosh, Treasurer
Ray Sines, Secretary
Christine Shoop
Contact
---
Rita McMahon, JEDD Administrator
(440) 477-1449 or (440) 354-7500
[email protected]