New Fire Station Projects
The Trustees, Fiscal Officer, Administrator, Fire Chief and his team have been working diligently on the new fire station project. We would like to thank the many community members with whom we have met and spoken to and the many residents who have reached out about the project. We continue to welcome conversations and discussion with any community members about the project.
Please feel free to contact Fire Chief Sabo at 440-354-7503 or [email protected], Township Administrator Andy Rose at (440) 354-7513 or [email protected] or our trustees at the following:
Morgan McIntosh [email protected]
Carl Dondorfer [email protected]
Amy Lucci [email protected]
April, 2020
The Concord Township Board of Trustees will hold a Special Meeting Wednesday, April 14, 2021 at 5:00 pm at the Concord Community Center for the purpose of interviewing Owner's Representative candidates to assist in the planning and construction administration of the Township's Fire Stations Project. There will be no video or Webex.
Concord Township received 10 Request for Qualifications (RFQ's) for an Owner's Representative to oversee and monitor the Fire Station Construction project. This representative will convey and protect the township's goals and ensure the project stays within budget along with other responsibilities. The applicants have experience in fire construction, project management construction, owner's rep experience, cost saving and budgeting skills and ideas, sequencing, knowledge of building trades, collaboration with communities etc. From this list of 10, the top four or five will be selected for in-person interviews to determine who would represent Concord the best.
The Trustees held discussion on these applicants during the April 7 Trustee Meeting:
The Trustee's held a work session on 2/17/21  to further discuss the new fire stations.
Station 1 Design Development Structural
Station 1 Design Development Mechanical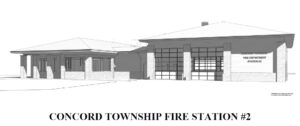 Station 2 Design Development Structural
Station 2 Design Development Mechanical
Station 2 Preliminary Landscape Design
Fire Station Tours
If you've never visited the current fire stations, we invite you to take these virtual tours and learn more about how the Concord Fire Department serves our community.
Concord Twp. Facility Study 2017