New Fire Station Projects
The Trustees, Fiscal Officer, Administrator, Fire Chief and his team have been working diligently on the new fire station project. We would like to thank the many community members with whom we have met and spoken to and the many residents who have reached out about the project. We continue to welcome conversations and discussion with any community members about the project.
Please feel free to contact Fire Chief Sabo at 440-354-7503 or [email protected], Township Administrator Andy Rose at (440) 354-7513 or [email protected] or our trustees at the following:
Morgan McIntosh [email protected]
Carl Dondorfer [email protected]
Amy Lucci [email protected]
Station Progress:
Our mild winter has kept the exterior work moving along, with the roof complete and the training tower capped. Wall studs are clearly delineating work and living spaces inside. The electricians, mechanicals and plumbers continue to be hard at work keeping the project moving forward. Many thanks to Pinnacle Construction, RFC Contracting, LeMay Erickson Willcox Architects, all the trades, and most importantly, our wonderful residents for your support!
Thanks to Pinnacle Construction for sharing their drone pictures
Fire Station #1
Station 1 Design Development Structural
Station 1 Design Development Mechanical
Fire Station #2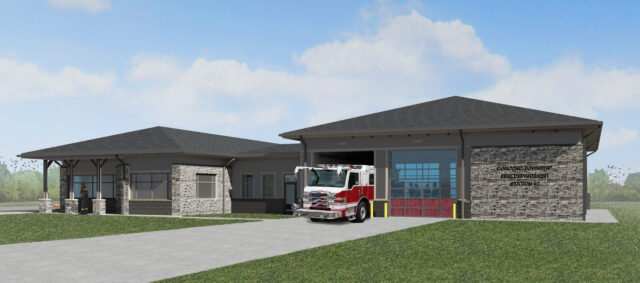 Station 2 Design Development Structural
Station 2 Design Development Mechanical
Station 2 Preliminary Landscape Design
Concord Twp. Facility Study 2017