New Fire Station Projects
The Trustees, Fiscal Officer, Administrator, Fire Chief and his team have been working diligently on the new fire station project. We would like to thank the many community members with whom we have met and spoken to and the many residents who have reached out about the project. We continue to welcome conversations and discussion with any community members about the project.
Please feel free to contact Fire Chief Sabo at 440-354-7503 or [email protected], Township Administrator Andy Rose at (440) 354-7513 or [email protected] or our trustees at the following:
Morgan McIntosh [email protected]
Carl Dondorfer [email protected]
Amy Lucci [email protected]
Fire Station  Progress
April 2022  – Exciting things are happening!
We are seeing a lot of great progress on the construction site of our new fire house despite the weather! This week was a major milestone as the lower level is being excavated and prepped for mechanical rough-ins. Next week we should see progress being made on the elevator pit! Great work by Pinnacle Construction, LeMay Erickson Willcox Architects, RFC Contracting and all of the subs working so hard everyday to get this done!
Special thanks to Firefighter/Paramedic J. Selby for the aerial images and video!
Another milestone was reached on our Fire Station Project.
We celebrated the groundbreaking for the new Concord Fire Station #1.
We were pleased to be joined by so many community members and thankful that Mother Nature provided a beautiful backdrop.
We will continue to keep you updated!
Fire Station #1
Station 1 Design Development Structural
Station 1 Design Development Mechanical
Fire Station #2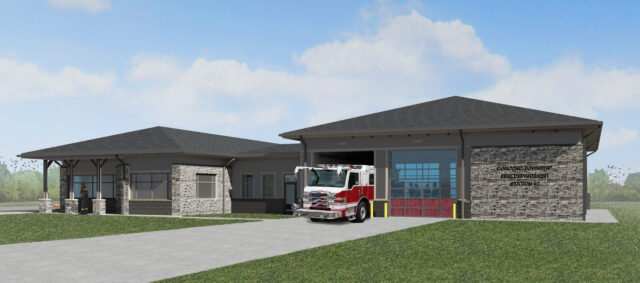 Station 2 Design Development Structural
Station 2 Design Development Mechanical
Station 2 Preliminary Landscape Design
Fire Station Tours
If you've never visited the current fire stations, we invite you to take these virtual tours and learn more about how the Concord Fire Department serves our community.
Concord Twp. Facility Study 2017