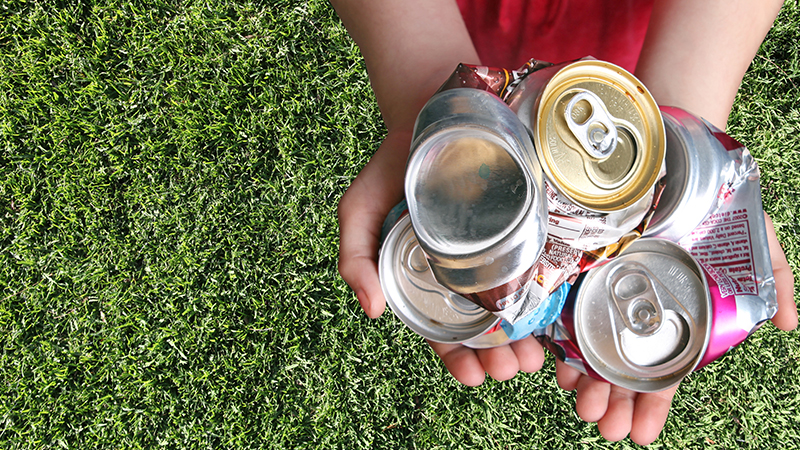 This information is offered to aid Concord Township residents in their disposal of household trash, yard waste, leaves, Christmas trees, recyclables, aluminum cans, computers, scrap tires, and household hazardous waste.
Recycling
Recycling Options
Residents are encouraged to contact their trash hauler to see if curbside recycling options are offered.
The Lake County Solid Waste District offers the use of a single stream drop-off recycling bin. The bin is available to all Lake County residents and businesses Monday-Friday, 7:00 am – 3:30 pm and to Lake County residents only on Saturdays 9:00 am – 1:00 pm, located at the Lake County Landfill, 2039 Blase Nemeth Road in Painesville Township. For more information and a list of acceptable items that can be placed in the bin, please view the Lake County Solid Waste District website or call (440) 350-2644.
All recyclable containers should be emptied and rinsed out prior to collection. In order to maximize space and collection volume, the District asks that residents avoid using plastic bags, to breakdown cardboard boxes, and to loosely place only the permitted recyclable materials into the single stream recycling bin.
Aluminum Can Recycling for Concord Township
Our Fire Department's Fire Prevention Bureau collects aluminum cans and uses the proceeds to help fund the Township's fire prevention education program. Cans can be left in the designated area at each of our fire stations.
Station One: Town Hall Campus parking lot (7229 Ravenna Road) behind the fire station
Station Two: 10154 Prouty Road on the south side of the station
Paper and Cardboard Recycling for Concord Township
As of June 26, 2021, paper and cardboard recycle bins have been permanently removed from the Town Hall Campus parking lot.
Additional Places to Recycle in Lake County
Waste Removal
Trash Removal
It is the responsibility of each household to properly dispose of its trash. Condominium residents please contact your homeowner's association (HOA) for information on the disposal options for your neighborhood. All other residents must contract with a hauler to have trash removed from their home.
When contacting trash haulers, be sure to mention the name of your subdivision, as some HOA's have agreements for specific services from haulers. When making inquiries, you might want to ascertain:
How should trash be contained?
What day of the week is pick-up?
Are there yard waste or recycling options available?
Below are some trash haulers options available to Concord residents and business owners (residents/business owners are not limited to the options below):
Yard Waste
Typically, yard waste CANNOT be included in normal household trash left for pick-up. Below are some of the options available to residents.
The Concord Township Service Department will collect yard waste on four Saturdays during the year; twice in the spring, and again in the fall. Check their webpage seasonally for exact dates and times. The Service Department is located in the rear of the Town Hall campus located at 7229 Ravenna Road.
Brush must be bundled and tied. Tree limbs should be no longer than four feet and no more than four inches in diameter. Yard waste (leaves, plant material, twigs) must be in biodegradable bags. These items are mulched and the mulch is available, at no cost, to residents who pick it up in their own vehicle. However, fresh mulch should be "seasoned" for about a year before added to landscape beds. The acidity of fresh mulch may damage plants.
There are also commercial options available for yard waste. MRLM Inc., (440) 357-6756, will accept yard waste, at no charge, on the second Saturday of every month April – October. Depending on weather conditions, MRLM may accept yard waste in November (contact MRLM to verify). MRLM may accept yard waste at other times throughout the year FOR A FEE. Contact MRLM for details. Their facility is part of the JTO complex located at 6011 Heisley Road in Mentor. Nells Enterprises will pick up yard waste, in addition to other items, FOR A FEE. Contact Nells Enterprises at (440) 567-0146 for more information.
Leaves
Once a week, in the fall, the Township contracts with an outside hauler to pick up leaves from residents. The week will be announced each fall on the Service Department page. The following guidelines must be strictly followed:
Leaves only, NO brush or limbs
Leaves must be in biodegradable bags
Absolutely no plastic bags will be picked up
Bags must be at the curb Monday morning by 6:00 a.m. The truck will make ONE pass through the Township. NO RETURN TRIPS WILL BE MADE.
These area nurseries have accepted bagged leaves in the past. Please call ahead to verify restrictions and drop off locations.
Brotzman Nursery, 6899 Chapel Road East, Madison, (440) 428-3361
Klyn Nursery, 3322 Route 84, Perry, (440) 259-3811
River Road Nursery, 4468 River Road, Perry, (440) 259-5868
Swansons at Arcola Creek Nursery, 2452 Dock Road, Madison, (440) 428-7497
Special Collections
The Lake County Board of Commissioners, Solid Waste District, Ohio State Extension and the Department of Utilities sponsor Special Collections throughout the year for electronics, tires, televisions and household hazardous waste. See the 2021 Special Collections Schedule below for more details.
2021 Special Collections Schedule