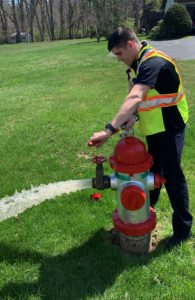 The Concord Township Fire Department has begun its annual hydrant maintenance program. Concord's firefighters will flush and test individual hydrants between 9 a.m. and 4 p.m. This program will be ongoing into the summer months.
Firefights remain in the vicinity of each hydrant as they allow water to flow, perform necessary testing, then close up the hydrant. If a hydrant needs repairs, we send a request to the respective water company, the owners of the hydrants.
Residents may notice a slight discoloration of their water when flushing is being completed in their neighborhoods. Running water cold for a few minutes before use should eliminate any discoloration.