2022 is Concord Township's Bicentennial Year!
Celebrate with us all year long!
Concord Township's history is a fascinating story of hard working pioneers that cleared the land and built the homesteads that are the foundation of our community. Our history includes the trials and tribulations of early industry that harnessed our unique natural topography, to provide goods and services that made our township thrive. From our early pioneer roots to the charming and vibrant township we know and love today, Concord is the epitome of the American Dream.
A lot of people associate Concord Township with the famous grape. But that's just a happy coincidence. Concord was actually named after the Battles of Lexington and Concord fought in Massachusetts in 1775, which were the genesis of the American Revolutionary War. During these battles, Paul Revere made his famous ride, and the first gunshot that started the war was immortalized in Emerson's iconic poem as "the shot heard 'round the world". Concord Township is proudly named after those victorious battles that started the American Revolutionary War, and were the culmination of the struggle for American independence from British rule. Our name proudly celebrates our independence every day.
Click here for the timeline of our Township history.
Concord Township's Bicentennial Mission and Goals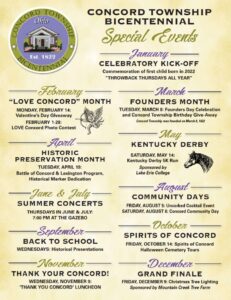 Click here for the list of special Bicentennial events!
Click here to see previous Throwback Thursdays
Have a question? Want to volunteer? Have an idea? Contact us at (440) 639-4650 or email [email protected].