The Zoning Department often receives calls from residents asking about the rules for having chickens, horses and other agricultural uses within the township. The Ohio Revised Code Chapter 519 grants townships the authority to utilize zoning to regulate land uses, with some exceptions and limitations. While 519.21 (A) limits a township's authority to prohibit agricultural uses, section 519.21 (B) does permit a township to regulate agricultural uses in any platted subdivision or in any area consisting of fifteen or more contiguous lots approved under section 711.131. Since April 1, 2011 Concord Township has had regulations in place that apply to agricultural uses in all zoning districts.
For lots one (1) acre or less and within a platted subdivision, only the raising of fruits, vegetables, or nursery stock for private use, consumption or incidental sale is permitted. An agricultural building may be permitted in conjunction with such use, however the size shall not exceed the maximum area permitted for an accessory building, and the building must meet the setback regulations for the zoning district the property is located. A zoning permit is required for any new building proposed.
For lots greater than one (1) acre, but less than five (5) acres, agricultural uses such as the raising of chickens, horses, and cows may be permitted with an approved zoning permit. An accessory building, such as a barn or coop, must be provided on the property to shelter any anim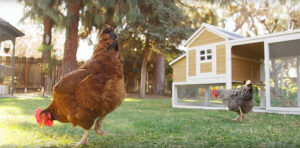 als that may be outside. The building cannot exceed the maximum square footage allowed for accessory buildings within the district in which the lot is located. Additionally, the building must comply with the following minimum setback or clearance requirements: 70 feet from the street right-of-way; 25 feet from the side or rear property line; and 100 feet from any water well.
When the number of accessory buildings is limited due to lot size, one (1) agricultural building may be constructed in addition to one (1) non-agricultural accessory building, provided the combined area of the two (2) buildings does not exceed the maximum area allowed for the district.
All of the zoning requirements for agricultural uses may be found in Section 6.01 (B) of the Concord Township Zoning Resolution, which may be viewed on the township website. For specific questions, please call Heather Freeman, Planning & Zoning Director at 440-354-7506 or email [email protected].